Picking your child's school is fundamental in their development. I personally went to Elgin Park Secondary School and loved every second of it, but Canada is known for having quality schools. Here are the Catchments for Burnaby, Delta, Langley, Richmond, Surrey, and Vancouver. I've also listed the schools in South Surrey / White Rock and given some details on each of the areas they cover.  This is separated by *Primary* and *Secondary*. In Canada, primary covers grades 1-7, and secondary covers 8-12. There are also schools that specialize in French immersion, which means they teach all of the classes in French, rather than English.
This page does not touch on private schools... yet.
To search for your specific area, click one of the following tags. These will take you to different pages. This page specializes in White Rock, South Surrey, and Grandview Heights.
[White Rock]     [South Surrey]     [Surrey]     [Delta]     [Langley]     [Burnaby]
 White Rock / South Surrey / Grandview Heights
There are the expected boundaries, taking into account Grandview Heights Secondary opening in 2021. 

There are 17 Primary schools and 4 Secondary Schools. Each primary school feeds into one secondary school and can be easily discerned in the graphic below. Scroll down to read more information on each area.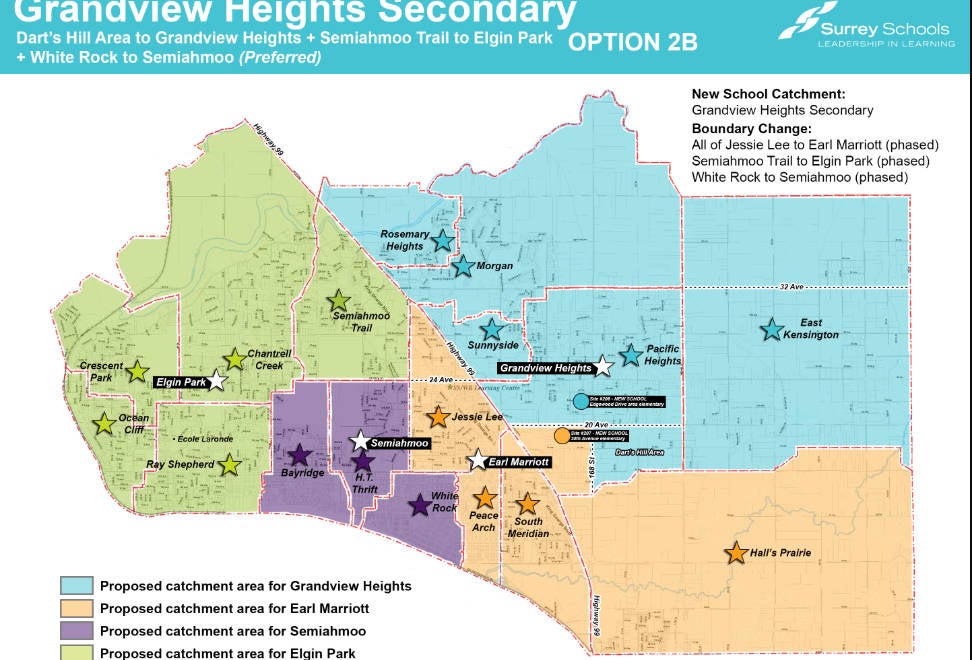 Starting from left to right, Elgin Park Secondary takes in students from Crescent Park, Ocean Cliff, Chantrell Creek, Ray Shepard, and Semiahmoo Trail. All of these areas host good neighborhoods with low crime rates. All of the elementary schools feeding into Elgin Park have an average of 6.84/10 when ranked against other schools in the Fraser Valley according to
Fraser Institute School Rankings.
Semiahmoo Secondary accepts students from Bayridge, White Rock Primary, and H.T Thrift. These schools are all quite close to each other and include two Recreation Centers, including one pool and two exercise facilities (Gyms.) The South Surrey Recreation and Arts Center boasts multiple full basketball courts and art rooms. These primary schools are
ranked on average 6.06/10.
Earl Marriott covers a very large area - from 160th Street to 200th Street. Receiving students from Jessie Lee, Peace Arch, South Meridian, and Hall's Prairie. Also known as EMS, this school has more active students than any others on the list. 
Grandview Heights has unfortunately not been finished yet - but will be open soon! They're getting students from East Kensington, Pacific Heights, Sunnyside, Morgan, and Rosemary Heights. 
All of these secondary schools host multiple sports programs. 
Elgin Chantrell is known for its beautiful homes and good community. With low crime rates, it's one of the best places in the lower mainland.